I've been making this Homemade Yeast Rolls or Bread Recipe for years now and it's never failed the multiple times I've made it.
To me, there's not much better in the food indulgence realm (outside of desserts, of course) than freshly made bread, still just slightly warm from the oven and topped with a good helping of creamy real butter.  I'm sorry if you now have to buy a new keyboard from all of the drool. 😉  Since yesterday I shared 15 yeast and bread making tips, I thought it was only fair that I now share my favorite Homemade Yeast Rolls or Bread Recipe.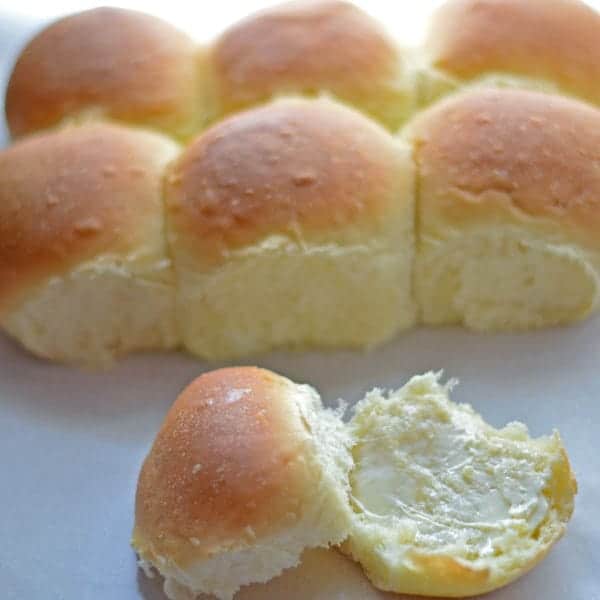 I've tried a variety of Homemade Yeast Rolls or Bread Recipes and some were okay but still rather meh, or a complete fail, but this recipe has been just about perfect each time I've made it – which is likely on average of twice a month for the past couple years.  Yeah, it's that good.  My favorite part of the recipe is that it doesn't use fancy flours – just regular all-purpose flour that most of us always have on hand.  My second favorite part is that it is a truly versatile dough.  I've made a variety of rolls, and loaves as you can see above, and even boules and cinnamon rolls (with an added egg and some extra sugar).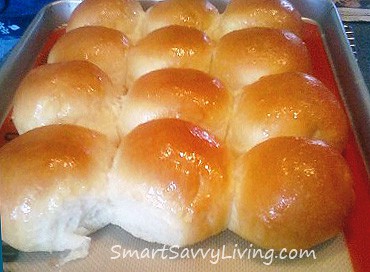 I've successfully made this Homemade Yeast Rolls or Bread Recipe completely by hand many times, but I do now use my stand mixer since I have one.  I'm sure it would also work great in a food processor with the dough blade.  I know that the recipe looks super long, but I'm going into specific details for the first timers.  I promise this recipe isn't as overwhelming as it may seem.
 I'm also including pictures of certain steps at the bottom.
Recommended Equipment
This section contains affiliate links, which means if you click on one of the links below and make a purchase, we may earn a commission fee. All items included here are ones that are tried and true by us and used regularly in our kitchen. Thanks for your support!
Homemade Yeast Rolls or Bread Recipe
This easy bread recipe is so tasty, you may just want to make it every day.
Ingredients
1 packet of dry yeast (or 2¼ teaspoons if you like to buy bulk yeast like I do; I've always just used regular active yeast, but rapid should make it rise faster)
¼ cup warm water - not hot, should be around 105-115°F or comfortably warm to stick your finger in for several seconds
1 cup milk (I use whole because if I'm going to the trouble to make homemade bread, I want to be sure it tastes the best it possibly can)
3 Tablespoons unsalted butter (You can totally use 4 if you have a half stick to use up)
1 large egg, beaten (I suggest doubling this for cinnamon rolls)
2 Tablespoons honey (sugar can be used instead; again i suggest doubling for cinnamon rolls)
¾ teaspoon table salt (I usually use kosher or sea salt and use 2 teaspoons)
1 cup + 2 cups all-purpose flour + more for kneading (you'll likely use 4 or more cups by the end)
Oil or non-stick spray
Instructions
Set a stick of butter out to warm up so you have spreadable butter when your bread is done - nothing worse than forgetting and not having spreadable butter! ;)
Add yeast to the warm water - again make sure it's not too hot or your yeast will die.
Stir until yeast is mostly dissolved and allow to bloom (or sit) 5 minutes. The mixture should have bubbles on the surface - otherwise your water was too hot and killed the yeast or your yeast is dead and you need to start with a fresh batch, but at least you found out at the beginning! (See photo #1 below.)
While the yeast mixture sits, place milk, butter, honey/sugar, and salt into a microwave-safe bowl/cup or saucepan. Microwave for around 1 minute according to how powerful your microwave is or heat over low heat on the stove. I like to cut the butter into small pieces before heating to make sure it all melts without the milk getting too hot. If the mixture is over 115°F or feels hot to the touch, you'll need to let it sit a few minutes to cool down.
While the milk mixture cools down, add 1 whole egg and 1 cup flour to the yeast mixture and stir/mix on level 2 with a dough hook to combine. It doesn't need to be mixed perfectly like a cake batter, it will look shaggy.
Once the milk mixture has cooled enough, add it to the flour/egg/yeast mixture. Add another cup of flour and mix with a spatula or on level 2 with a dough hook.
Then add a third 1-cup of flour and mix in. This should make the dough wet and sticky and still shaggy, yet pliable enough to start kneading (by hand or in the mixer). See photo #2 below.
Flour your kneading surface lightly if kneading by hand - I like to use a silicone mat to help the dough stick less and have things be easier to clean.
Knead the dough 6-8 minutes (4-6 in the stand mixer), adding a small amount of flour to the surface and/or your hands when the dough starts to stick. The amount of flour this will take will depend on the humidity of the day and even the flour you are using. Around the 6-8 minute mark, the dough should be noticeably smoother and be elastic (springs back when pulled). The dough should be soft and still slightly sticky. For mixer kneading, the dough should be forming a ball that clears the sides of the bowl - once done it should be elastic when you pull on it. If the dough is overly sticky when you do this, you need to add a bit more flour, about 2 tablespoons at a time.
Take your clean rising bowl and coat with cooking spray or oil. Form the dough into a smooth ball by tucking the seam around a few times to the base. Place the bread "pretty" side down to coat with oil and then flip it so this side is now on top. This is so the dough doesn't dry out. When using the mixer, I just pat the dough down evenly and let it rise there - hooray for less dirty dishes! See photo #3 below.
Cover the dough with a clean towel (you may want to slightly dampen if it's a really dry day) or plastic wrap. Let the dough rise in a warm area for around an hour until doubled. If your house is cold, turn your oven on the lowest setting a few minutes while kneading, then turn off and add your dough container to rise.
At this point, if you're not ready to use the dough once it has risen, you can either punch it down and let it rise again until you're ready, stick it in the fridge punching down as needed for up to 2 days, or freeze.
After the dough has doubled, it's time to punch it down. Just make a fist and "punch" the dough until all the air is out.
Shape the dough as desired - classic yeast rolls, cloverleaf rolls, a loaf, boules, etc. The classic roll is easiest and is what is pictured so that's what I'll explain this time
If you want rolls that are in absolutely equal shape and size, you'll want to pat or lightly roll out the dough and then cut it into even square shapes. I'm lazy and imperfect so I expect the same of my rolls and just pinch off the dough in sizes as similar as possible. ;)
Take the piece of dough, grab an edge and fold it down to the bottom, repeating on all sides until you have a roundish shape with a smooth top. Place the roll in the pan with the unsmooth or "ugly" side down.
A note on pans and crust - If you like a softer crust, I suggest placing them in a glass dish with high edges, like a 9x13. If you like a crisper crust, I suggest a metal sheet or pan, like a half-sheet so the edges are more exposed during baking. Either way, make sure you leave about ½ to 1 inch between the rolls so they have room to rise and expand, with just enough space so that they will touch when fully risen. This will help them rise nice and tall and create that flaky pull-apart yumminess we all love.
Repeat the above step until all dough is used.
Once all rolls have been made, cover the pan(s) with another clean towel or plastic wrap and let rise until double in size.
Make sure your oven rack is set to the middle of your oven so the top and bottom can brown evenly. Preheat your oven to 350°F about 15-20 minutes before you're ready to start baking.
Take off the towel or wrap on your rolls and place in the oven and bake until done. Exact time will depend on how large you made your rolls and how hot your oven actually heats. Mine usually take 20-25 minutes. Other shapes and sizes will vary, loaves will take 40 - 60 minutes depending on your oven (I make just one loaf out of this recipe.) To be sure, you can use an instant-read thermometer and aim for at least 190°F.
Once done, take your rolls out, allowing the pan to cool a minute and then immediately remove rolls from the pan so the bottoms don't get soggy. While waiting, you can melt some butter to brush on top, if desired. I usually use regular butter, but you can spice things up with garlic, onion, honey cinnamon or whatever sounds good to you. Remember if you're using these for sandwiches or sliders, you'll want to let them cool completely for slicing success - and always use a good bread knife!
You're finally done and can enjoy your yummy masterpiece. Just don't blame me if everyone scarfs them down in minutes and you're looking at this recipe again tomorrow. ;) Enjoy!

Now that you've made this homemade yeast rolls or bread recipe, what's your favorite thing to top it with?
More Smart Savvy Living Articles You'll Love
Here are some more of our most popular recipes on SSL: